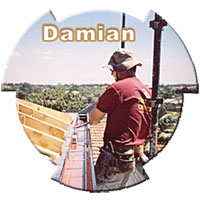 Damian -
0414 752 490 ph/fax 9525 8361
Rob -
0409 260 984 ph/fax 9666 8363
Click here for a hassle free quote
About Us
We are proudly a local company that offers you personal friendly service with a commitment to providing the best products and highest standards of workmanship at affordable prices. We are continuous guttering installation specialist that can offer you Sydney's biggest range of roll-formed on site guttering profiles by Stalco.
When it comes to quality you will find the Stalco product second to none with the highest standards of quality control and unlike some other gutter manufacturers, have not reduced the thickness of the gutter material that gives you less for more.
The gutter products we offer are enhanced with HD Color-Cote® coil coating advanced polymer technology, that provides a smooth durable exterior finish, to any profile style you choose. HD colour cote is unparalleled in its quality with the world renowned expertise of Hunter Douglas, who have been pioneering coil coating in Australia for more than forty years.
Our licensed contractors pay attention to every little detail, to ensure you are satisfied with our work. As local people we know your recommendation is our future, and trust you will consider our offer favourably by simply giving you the right advice and great value.
Some of the services we provide include:
Sydney roof gutter repairs
Water tank installation
Affordable and quality roof and guttering services
Roof plumbing gutter repairs
Gutter plumbing services
Roof plumbing maintenance
Down pipes, budget gutter systems
Fascia boards
Steel and aluminum gutter
Colonial style gutters
Traditional gutters
Stalco continuous gutters
Local company
Gutter guards
Quad gutters
Ogee gutters
Flowmore gutters
Colorbond gutters
Continuous gutters
Click here to read more about our Steel Gutter and Aluminium Gutter products and services.